Nexen, Toyota Tsusho establish sales JV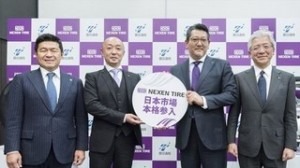 Tokyo – Nexen Tire Corp. has established a sales subsidiary in Japan to handle its growing replacement tire business there, and to reinforce its OE supply relationships with Japanese automobile manufacturers.
The company, Nexen Tire Japan Inc., is a 51/49 joint venture with Toyota Tsusho Corp., the trading arm of Japan's Toyota Group that is involved mainly in exporting cars and automotive parts.
The two companies began discussing a cooperation in June 2015, Nexen said, and those talks progressed into signing of the shareholders' agreement to establish the venture.
Nexen Tire Japan begins its sales of Nexen-brand products this month with CEO Ryu Nishimura at the helm of the new company.
Nexen Tire aims to bolster Nexen Tire's brand awareness and boost its sales in the Japanese market by leveraging Toyota Tsusho's brand awareness and distribution network,
Officials from both companies recently christened the new company during a ceremony at its Tokyo offices. Taking part were Travis Kang, CEO of Nexen Tire; Ichiro Kashitani, automotive division CEO of Toyota Tsusho; Nishimura; and Daisuke Kudo, vice president of Nexen Tire Japan.
The parties did not disclose Nexen's sales or sales expectations in Japan.
Established in 1948, Toyota Tsusho is one of the five largest Japanese trading companies, generating $591 million in earnings in fiscal 2015 with six operating divisions.
Toyota Tsusho Corporation, the trading arm of Japan's Toyota Group, mainly exports automobiles and automotive parts, but is also actively involved in a range of businesses including metals, chemicals and electronics.
Nexen also recently secured better sales conditions in Brazil via a deal with Pirelli Tyre SpA's Brazilian subsidiary to distribute Nexen-brand tires in Brazil.