IRP Medical acquires injection moulding firm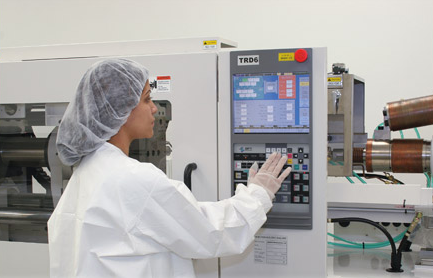 San Clemente, California – International Rubber Products and its IRP Medical unit continue to grow and add capabilities, through both investing in new equipment and closing on an acquisition.
The group recently purchased ProPlas Technologies, a manufacturer of custom injected moulded products to the medical, dental and commercial industries. ProPlas focuses on thermoplastic elastomers, thermoplastic urethanes and plastics, with an even split between the medical and commercial markets.
Financial terms were not disclosed.
"It's definitely a benefit to the organisation to have more of the tool building thermoplastics and then rubber moulding under one roof to support that Mikron business," said Trey Atkins, executive vice president of business development at IRP Medical.
"They're looking for opportunities to grow and improve the business," he added. "These opportunities that arise that complement our core business are areas that we think we could go into in the future."
Mikron Rubber is a separate IRP division based in Ontario, California. The unit focuses on sealing products made from TPEs and TPUs for the power, energy, and oil and gas markets.
IRP President Casper Zublin said in a news release that the firm is excited to bring the two organisations together, adding their combined experience in plastic moulding and tool building will fit with the firm's growth strategy and market need for stronger US-based contract manufacturing.
According to IRP's release, the merger will double the company's size, provide more resources to ProPlas Technologies' customers and take IRP to a new level of manufacturing capabilities with experience in thermoset and thermoplastic materials.
ProPlas employs about 85 and operates 28 injection moulding machines from its 42,000-sq.-ft. facility in Garden Grove, Calif. It is certified ISO 13485:2003, ISO 9001:2008 and as a Food and Drug Administration medical device manufacturer.
Including ProPlas and Mikron, IRP Group operates four divisions at three facilities—IRP Medical, its liquid silicone-focused medical operations in San Clemente, and Abba Rubber, also based in Ontario, focuses on rubber coated rollers, wheels and shafts.
The Ontario and San Clemente facilities employ about 55 and 60 each.
Medical growth
IRP Medical is also making investments in response to the 30 percent growth it experienced in 2015. Atkins estimates existing customers accounted for about 40 percent of the division's growth with the remaining coming from new customers.
The unit has installed its sixth press, will be adding a seventh by mid-March and projects to add an eighth in September to its facility in San Clemente—also IRP Group's headquarters. Rey Obnamia, vice president of technology and regulatory affairs, said the firm invested more than $500,000 in the new machinery.
Atkins said IRP has enough space at its facility to hold up to 42 moulding machines, which means it has plenty of room to add new business. All seven machines were installed in the firm's 8,200-sq.-ft. ISO Class 8 clean room. The room has space for 20 to 22 moulding machines.
The firm projects to add six to 10 to its work force in the near future, Atkins said.
IRP Medical has an ISO Class 7 clean room that spans 12,800 square feet on the second floor of the building, but it is not operational. Atkins said it's there for future secondary operations business such as assembly, packaging or horizontal extrusion.
"We're becoming a leading contract manufacturer for liquid silicone moulding here on the West Coast, which has been quite a void that was created back when there used to be a company called Hi-Tech Rubber," Obnamia said.
Atkins said the company is budgeting about 15 percent growth for 2016, but he added that the figure was optimistically conservative. He said the firm's customers within the diabetes market continue to experience strong growth. IRP Medical is pursuing a number of opportunities in skin care, respiratory and even some limited commercial applications.
"One of the things we appreciate too is that we're getting a lot of traction and support from raw material suppliers as well," Atkins said. "In the western United States, there aren't many liquid silicone moulders that will do small, medium and high-volume production. As raw material suppliers, they want to sell bales as well as drumkits of LSR. We're capable of doing that, and we do appreciate their recommendations as well."
IRP Medical also added ISO 13485:2003 certification in January 2015 and in June registered to the FDA as a medical device establishment for a classified product.
While the FDA registration is just for this particular device, Atkins said additional opportunities may arise that require FDA registration, and if so, the firm could expand its registration to accommodate other classifications.
"In the kind of space we work with, being a contract manufacturer for elastomers, not everyone has an FDA-registered establishment," Obnamia said. "It kind of brings more to the table, especially for the big medical OEMs, to consider suppliers like us."
ProPlas synergies
Obnamia said there are synergies between ProPlas and Mikron in the catalog business. IRP plans to have the Mikron unit develop a more extensive sealing solution catalogue in response to the market demanding more TPE produced devices. ProPlas brings in-house tooling and the ability to mould many of the sub-rings for seals that get over-moulded, which will help support Mikron as it expands into this market.
Atkins added that ProPlas has a good amount of capacity, and its facility is relatively new. Eventually it could manufacture both thermoset and thermoplastics. From an IRP Medical standpoint, down the road the firm could have customers that would want a company to provide a Class 8 clean room and thermoplastic moulding under one roof.
"The in-house tool-ing capabilities that ProPlas provides at some point will be helpful to us as well," Obnamia said.
ProPlas President Scott Taylor will continue to run the unit and becomes an operating owner within the IRP Group, Atkins said.
Another reunion
IRP Medical brought on another former co-worker from Hi-Tech Rubber as its director of engineering, a newly created position. Jim Addonigio joins the firm with 31 years of medical engineering and quality management experience.
Atkins, Obnamia and nine others currently working for IRP used to work for Hi-Tech Rubber. The group left the company after Parker Hannifin Corp. bought the assets of HTR Holding Corp., which included Hi-Tech Rubber, in 2008 and eventually reunited at IRP.
"As we become bigger, we need to have a deeper depth of engineering talent within our organisation," Atkins said.
Recently, Addonigio worked as process engineering manager for Medegen—which was purchased by CareFusion, which was acquired by Becton Dickinson. Medegen served as a needle-less valve manufacturing plant in Ontario for both silicone and thermoplastic manufacturing lines.
Atkins said Addonigio has worked with major OEMs and has a strong understanding of what current medical OEMs are demanding of custom contract manufacturers.
"As a contract manufacturer, our endgame is high volume production," Obnamia said. "So we'd like to be very strong in product development from concept from a drawing to developing a prototype, to full production and manufacturing. The stronger we are, the more competitive we'll be in the marketplace."
Addonigio's main responsibilities will be improving IRP Medical's project management and process development programs. Atkins said he will work closely with Engineering Manager Phil Benker to launch and validate all new tooling. Addonigio will have a role in the firm's facility engineering as well.
"We consider Jim and Phil as the office technicians in the liquid silicone market," Atkins said.
"We think that brings a great value to our capability in the engineering world for high precision liquid silicone moulded components."
Imports of agricultural/implement tires rose 3.9 percent to 2.19 million units, with an average value of $132.03. China and India were tops in this category with 1 million and 645,550 units, respectively.
Imports of construction/industrial tires fell 8 percent to 2.62 million units, with an average value of $254.94. China, Sri Lanka and India were the top three exporters to the US, accounting for nearly 2 million units among them.
Imports of solid tires rose marginally to 5.07 million units, with an average value of $42.05. China and Sri Lanka dominate this category, with 2.56 million and 2.1 million units, respectively.
Imports of ST-type specialty trailer tires jumped 43.9 percent to 17.9 million units, with an average declared value of $15.18. China accounted for 15.7 million units, or 87.4 percent of imports. Taiwan accounted for 1.13 million units.
Imports of motorcycle tires rose 2.9 percent to 3.04 million units with an average value of $49.57. Top exporters were Thailand, South Korea, Japan and Indonesia.
Imports of aircraft tires were 268,936 units, with an average value of $405.