Cabot CEO extends leave of absence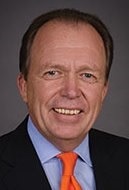 Boston, Massachusetts – Cabot Corp.'s chief executive officer Patrick Prevost is not yet "ready" to resume his full-time CEO responsibilities after suffering from a minor stroke in December 2015.
In a statement on 1 Feb, the company said the "interim CEO office" which was set up immediately after Prevost's illness will continue to report to the board of directors.
"Patrick has been increasingly engaged with the management team and the board of directors and he has been participating in various meetings in the office, in addition to working from home," said John O'Brien, Cabot's non-executive chairman of the board.
The CEO Office is comprised of Eduardo Cordeiro, executive vice president and chief financial officer, and president, Americas and EMEA regions; Brian Berube, senior VP and general counsel; Sean Keohane, executive VP and president, Reinforcement Materials Segment; and Nicholas Cross, executive VP and president, Performance Chemicals and Specialty Fluids Segments.
Prevost also made a statement saying he was happy to "to have re-engaged in the business while I continue to focus on my recovery.
"However, I will not be participating in Cabot's first quarter 2016 earnings teleconference. The call will be led by Eddie Cordeiro in my absence."