Trelleborg opens US agriculture tire plant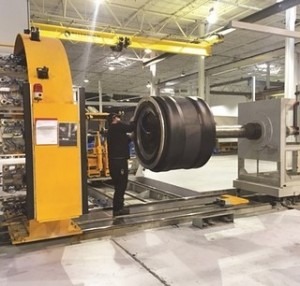 Spartanburg, South Carolina – Trelleborg Wheel Systems cut the ribbon on its first North American tire manufacturing plant in Spartanburg late January, touting its expanding commitment to the North American market.
The 430,000-sq.-ft. facility will produce radial agricultural tires, eventually in sizes ranging from 24- to 54-inch rim diameters, for both the OE and replacement markets.
Trelleborg is investing more than $50 million (€45.8 million) in the multi-phase project that converted a former Trelleborg AB coated fabrics facility to tire production.
Tire production started late last year and the company said it will continue to add tire building equipment over the next couple of years. The facility is expected to employ 150 by 2018.
"North America is the largest agricultural market in the world and it is highly attractive for us. Demand for extra-large agricultural tires, where Trelleborg is a market leader, is growing in the region. Although we already sell our products in the US and Canada, local production offers considerably more favourable conditions, thus enhancing our competitiveness," Pompei said.
"We are now located in a modern facility in a prime location with state-of-the-art equipment designed according to the latest Trelleborg technology standards.
"This means we will be able to capitalize on existing partnership agreements with major original equipment manufacturers and distributors, while facilitating the transfer of technology from one part of the world to another."
The plant features what Trelleborg claims to be the widest innerliner calender in the ag tire industry; fully automated body plies cutter; a fully robotized line for textile belts; and fully automated curing presses.
The US represents the largest single market for Trelleborg AB, where it reported corporate-wide sales in 2014 of about $730 million.
Trelleborg Wheel's North American sales are estimated at about $175 million. The tire maker has about 30 direct dealers and more than 1,000 indirect points of sale in North America.
There are three main reasons the Swedish company set its sights on establishing a tire plant in the US market, according to Pompei:
Currently radial usage is at about 48-percent — providing "plenty of space" to improve the productivity of Trelleborg's customers.
He noted that the growing costs of importing tires into the US market can be a business killer.
"This is why we don't believe in a strategy where we produce tires in one part of the world and we ship tires around the world. We don't believe this is going to be sustainable. We don't believe it's going to be stable. We don't believe this gives our customers the possibility to make long-term plans," he told those gathered for the grand-opening event.
"This investment shows the clear commitment of Trelleborg to the expansion of our activities here in the region," said Ulf Berghult, CFO of parent Trelleborg AB.
He pointed out that the facility "creates a growth platform for us in the US" With the company's footprint in North America and its recent acquisition of Standard Tyres Group, a Brazil-based industrial tire manufacturer that strengthens its market share in South America, he said "more and more, Trelleborg is becoming a global force in the field of agriculture tires."
"Later this year this will become even more obvious as the merger with the Czech company CGS becomes effective," he added.
Trelleborg is awaiting government approval of its $1.25 billion bid to acquire CGS Holding AS, the parent firm of Mitas AS, which opened an ag tire plant in Charles City, Iowa, in 2012. Merger of the two companies would nearly double the annual revenue of Trelleborg Wheel Systems, potentially making it the largest ag tire and wheel producer globally.
The firm now operates four ag tire plants and two ag wheel plants around the world along with six R&D facilities and 20 distribution centres.