UK using aerial drones to monitor scrap tire sites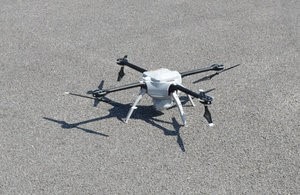 Manchester, UK – The UK Environment Agency (EA) is using flying drones to monitor sites holding waste tires, rubber, plastics and other combustible materials, the government agency has announced.
According to the EA, remotely controlled drones are being used to take photos and videos and also detect elevated heat sources within waste piles.
"As waste degrades high temperatures can be created. The unit will identify those areas within the piles which are at a higher risk of self-igniting and have the potential to cause a fire," said the agency.
The EA regulates waste sites, issuing permits that detail the conditions they must operate within to ensure the protection of the environment.
The agency also works with the fire service to identify high-risk fire sites to ensure that waste is handled safely.
Fires at waste sites are of increasing concern, said Gordon Whitaker, environment manager.
There is, he added, always a risk of pollution to watercourses and the local environment.