ZC Rubber opens second Mexican store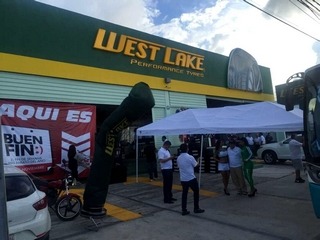 Cancun, Mexico – China's Hangzhou Zhongce Rubber Co. Ltd. has opened a Westlake-branded tire store in Cancun, its second store in Mexico and latest in a move to build a distribution network there.
The new store covers 3,250 square feet and concentrates on the Westlake commercial and consumer tire lines, the company said.
ZC Rubber Vice President Guorong Ge attended the store's recent opening, where he hosted a dealer meeting with the local Westlake distributor that same day.
ZC Rubber is working closely in Mexico with Avante Group, an industrial real estate developer, to build a store network.
Mr. Ge described Mexico as one of ZC Rubber's most important export markets. He said ZC generates about $900 million in export sales out of $4 billion (€3.7 million) in annual revenue.
Mr. Ge noted that 2015 is a year of challenges and opportunities because of the various factors, such as the global economic slowdown, slower economic growth in China, raw materials long-term instability, the fall in crude prices and exchange-rate devaluation.
ZC Rubber opened its first Mexican store in 2014 in Monterrey and has plans for more stores in Mexico City, Guadalajara and other sites.