Press release – Kraiburg TPE in latest Siemens vacuum cleaners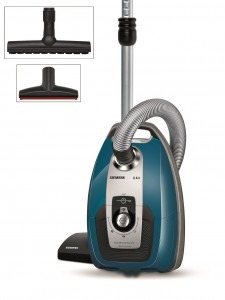 Waldkraiburg, Germany – When the task at hand is flexible, but nevertheless reliable sealing of components, thermoplastic elastomers really show their strengths.
In the new VSQ8 vacuum cleaner this reliable sealing capacity is particularly important.
With this reliable sealing capacity the manufacturer SEG Hausgeräte fulfills the requirements stipulated in the new EU Ecodesign Directive, which limits the maximum power of vacuum cleaners to 1,600 watts in order to establish more energy-saving appliances in the household.
Among other things the plastics specialists headquartered in Delbrück, Germany rely on Thermolast K from Kraiburg TPE, in order to seal as extensively as possible and thus achieve a maximum energy yield. At the same time the material is also used as an integrated bumper strip all around the vacuum cleaner, to protect the end-customer's walls and furniture.
"Here we need particularly scratch-resistant TPE that is resistant enough that it does not generate abrasion, and leaves no traces of the vacuum cleaner on the environment", explains Bernd Mollemeier, director of technical development at MöllerFlex.
2-component-injection moulding with cube technology
In the processing, MöllerFlex also relies on injection moulding technologies that are particularly innovative: The complex component geometry of the vacuum cleaner shell is executed in two-component injection moulding with cube technology.
In the two sides of the cube mould that are usable for manufacturing, the injection moulded parts are moulded simultaneously. In this process the cube mold rotates 180° two times so that the production steps run simultaneously and a complete injection molded part is produced.
In this manner the vacuum cleaner shell and the perimeter TPE bumper strip are formed in virtually one production step.