Sumitomo unveils new tire technologies in Tokyo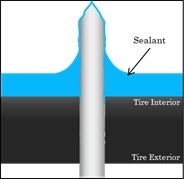 Kobe, Japan – Sumitomo Rubber Industries Ltd. has developed two tire technologies that offer extended mobility --- a prototype airless tire using resin spokes in place of a pneumatic air chamber and a tire sealant that prevents air loss in the event of a puncture.
Sumitomo is showing prototypes of both technologies at the 2015 Tokyo Motor Show, which opened to the public on 30 Oct.
The "Gyroblade" airless tire/wheel features a tire tread affixed to the circumference of a tire body is attached to the metal wheel hub by special resin spokes. SRI claims this advancement – which bears a resemblance to the Michelin Tweel and similar airless tire designs -- not only removes safety concerns arising from underinflated tires but also contributes to the environment by eliminating the need for spare tires.
The special resin spokes can be produced a various colors, allowing the tire/wheel concept to make a fashion statement.
SRI did not disclose what type of resin is used for the spokes, what the product's weight-bearing limit is, the speed range in which it's designed to operate, nor how close it might be to being commercially viable.
SRI did not disclose the type of polymer or polymers used in the sealant lining, nor how close to commercially ready it is.
The Kobe-based tire maker said both developments reflect the environmental goals of its long-term Vision 2020 strategy – i.e., developing products that fulfil the challenge: "How Tires Can Contribute to the Global Environment."