Omni expanding Timberland tire line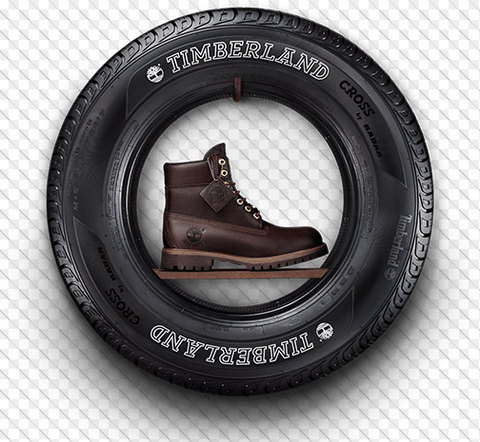 Traverse City, Michigan – Importer/wholesale distributor Omni United USA is expanding the scope of its Timberland SUV/light truck tire brand.
The firm is adding an all-terrain light truck version of the brand that it's cross-promoting with outdoor shoe brand Timberland LLC, along with increasing the size range of the Timberland Cross SUV line.
Omni United also is upgrading its Radar Renegade M/T light truck line, incorporating design features gleaned from experience in off-road racing into the new R7 line, which Omni said is targeted at the serious off-road enthusiast.
Launched at the 2014 Specialty Equipment Market Association Show, the Timberland brand is produced by Cooper Tire & Rubber Co. and is tied to an initiative to ensure the tires are recycled into Timberland shoe soles.
Omni United is rolling out the Timberland A/T–which the company said is designed to deliver genuine off-road traction without sacrificing on-road comfort–in 30 sizes and backing it with a 50,000-mile treadwear warranty. Omni United credits features such as stabiliser ribs between the large tread blocks and bevelled block points for helping to create the tire's "balanced" on- and off-highway performance.
The Timberland A/T's sizes start at 31x10.50R15LT and range up to LT275/65R20.
At the same time, Omni is adding 15 sizes to the Timberland Cross range launched last year, expanding it to 35 sizes. The size range now starts at 215/70R16 and scales up to 275/60R20; suggested retail pricing ranges from $174 (€153) to $299.
The tire is available in both black-wall and raised outline white lettering and is backed by a 65,000-mile warranty, the distributor said. Suggested retail prices range from $142 to $229.
Omni United said the target market for Timberland-brand tires is the same audience that knows and buys Timberland footwear, apparel and accessories–that is, active people who enjoy spending time outdoors and connecting with friends and family.
"We want to demystify tires for this audience and bring some of the excitement and sizzle of the fashion industry to our category," said G.S. Sareen, Founder and CEO of Singapore-based Omni United Pte. Ltd., the purveyor of the Timberland brand.