On-line training 'first' for rubber industry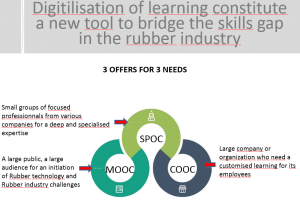 Brussels – French rubber-industry training body the IFOCA is launching a series of on-line training course for the rubber industry, Christian Caleca, directeur general of the Centre Français du Caoutchouc et des Polymères has announced.
These will include the first rubber technology MOOC (massive open on-line course) in Europe, Caleca said at the 'Skills and new education tools' conference, staged 6 Oct in Brussels by the European Tyre and Rubber Manufactuers' Association.
The same month will also see the launch of two 'small private online courses (SPOCs). Two courses are being launched initially: one dedicated to 'Elastomeric materials and finite elements simulation' and the other one dedicated to 'Failure analysis'.
The SPOCs will be paid-for offerings, though Caleca said they will work out about half the cost of traditional training methods.
"Typically seminars with 10-12 engineering people around a table cost about €500-600 per person per day," he explained. "Through the SPOC you can double the number of students and then divide the cost bt two or three. The format also offers the ability to study at suitable times and avoid travel expenses."
Completing the new on-line training series are corporate online courses (COOCs), which provide dedicated training for a single organisation or company.
As Caleca explained: "If a company wanted to train 100s of people around the world on a certain topic within a certain period of time then a COOC would be very well adapted and designed for such requirements.
This is of course at a certain cost and right now we can design a course for around €70,000 that would of course be spread across the companies worldwide."
The plan is to launch the first COOC by end of 2016 or early 2017, said Caleca, adding that "we have already some good contacts to develop specific COOC for specific corporations."