Apollo sets up retail outlet in Lebanon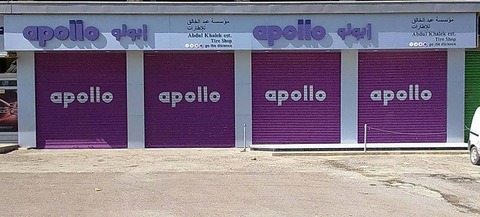 Beqaa, Lebanon - Apollo Tyres has opened up its first branded retail outlet in Lebanon in a bid to improve its position in the Lebanese market and the Middle East, according to the Indian tire-maker.
Branded as Apollo Zone, the outlet aims for better branding and product display and will offer passenger car, truck-bus and agriculture tires.
Located in the Beqaa governorate of Lebanon – the main road connecting Lebanon to Syria – the retail shop cooperates with Lebanon's leading tire and accessories retailer Saka Trading Co.
"The growing passenger vehicle segment of Lebanon, along with the entire Middle East region, has a lot of potential for us," said Satish Sharma, Apollo's president for Asia Pacific, Middle East & Africa (APMEA) business.
He added that Apollo wanted a "larger mind space" in Lebanon's market, which it said was about 80,000 pieces a month.
The outlet, he added, will help Apollo increase brand visibility and will also result in a better and more informed buying experience for consumers.
After Dubai and Kuwait, this is the third branded retail outlet by Apollo Tyres in the Middle East region.
(Image source: Apollo Facebook page)