Interview: Titan gains momentum, targets Turkey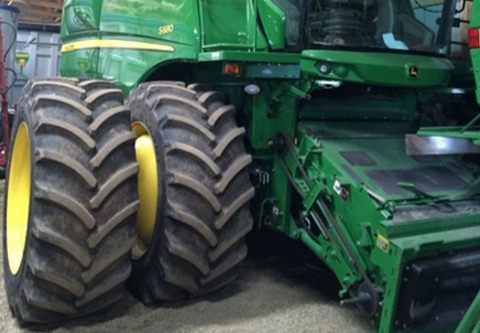 Quincy, Illinois — Titan International Inc. gained positive momentum in the second quarter and is back on the right track, according to the firm's top executive.
Now the company is looking to continue that improvement, which is not an easy task considering some segments that the company serves, including the mining industry, are not doing well.
Nonetheless, it has a number of key projects in the works that could come on stream within the next several months, Chairman and CEO Maurice Taylor Jr. said.
Titan is moving ahead with plans to expand its wheel plant in Turkey, while at the same time the company is looking to establish a new presence in Brazil to accompany its existing tire business in the country, he said in a statement issued with the release of the company's second quarter and half year financial results.
Manufacturing centre
Taylor said in an interview the company has begun the initial engineering for the expansion project in Turkey, which he maintained is a strong base for off-the-road tires.
Tying in with that expansion, the company has signed an agreement to sell its brake business, including a plant, in Italy, he said, but he did not elaborate on the potential transaction.
"We currently truck rims from Italy to Turkey," Taylor said. "We have a lot of Turkish manufacturers that make tractors." The company purchased the Italian operation in 2012.
Titan's plan is to create a manufacturing center in Turkey, which will expand its presence in the country significantly. After the expansion is complete, he indicated the Quincy-based firm is considering producing tires in the country.
In terms of Brazil, Taylor said Titan currently has substantial size but wants to gain additional ground. "We'll be able to grow there. Our LSW technology outperforms anything else, so we'll add to what we currently do in Brazil. We pretty much have all the equipment we need in storage in California and Quincy."
In addition, he said construction has begun on a facility at the firm's leased 10-acre site north of Fort McMurray, Alberta, where subsidiary Titan Tire Reclamation Corp. plans to operate a pyrolysis system developed by Green Carbon to reclaim oil, carbon black and steel from off-the-road tires—in particular mining tires—and conveyor belts.
Green Carbon, controlled by Taylor's brother, Fred, developed the pyrolysis system. Oil reclaimed from the system is expected to be sold back to oil companies to be refined as bio kerosene, steel can be used for production of tool bits on shovels and bulldozers, while Titan would reuse the carbon black.
Equipment is being moved to the site, located in the oil sands, he said. He expects the operation will be up and running in April.
Titan said the system will be able to process 100 million pounds of rubber annually.
In addition, the company has other initiatives involving products in the works and slated to come on stream in the next few months.
For instance, Titan will produce what Taylor termed top of the line ATV Goodyear tires, new underground mining tires and wheels along with "new super single tires in conjunction with three-piece wheels for ease of dismounting."
Navigating cycles
Those upgrades and initiatives are quite a change from last year when the firm laid off a large number of workers, many of them at its overseas plants. Several experienced members of its management team and some longtime employees retired at the end of 2014, creating the need to rebuild parts of its management team.
Titan brought key personnel on board who, Taylor said, have filled the management void successfully."As I've mentioned during the past few quarters, when things get tough, Titan keeps moving," he said in his statement.
"Historically, Titan has successfully navigated through these different cycles. The new leadership team is maturing and gaining further seasoning while managing through these different markets. I am confident this new management team will ultimately lead and drive this company to new heights."
Despite a drop in sales, Titan International Inc.'s net income, income from operations and gross profit rose in the second quarter.
Sales fell 28 percent to $376.1 million from those recorded in the like 2014 period, while gross profit increased more than two-fold to $51.1 million from $20.8 million; income from operations was $7.5 million, up from a loss of $29.5 million in last year's second quarter; and net income was $4.2 million, a significant step up from the $24.9 million loss last year.
"This past quarter, like the first, proves that what the management team has done in 2014 and thus far in 2015 is paying off," Taylor maintained.
Titan's agriculture, mining, construction and consumer businesses are all down, he said. "Overall sales are off 25 percent year over year, yet we have been able to improve our operating margin rate performance. Titan's liquidity remained stable during the quarter, with both cash and debt balances similar to the first quarter."