Conti breaks ground on US expansion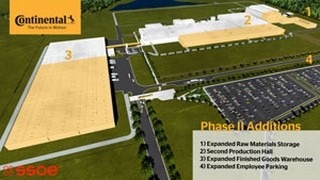 Sumter, South Carolina – Continental Tire the Americas LLC has broken ground on a $500 million (€443 million) expansion of its nearly 2-year-old Sumter plant that will double annual capacity to 8 million passenger and light truck tires by 2021.
The expansion, part of Conti's original plans for the factory, will create up to 800 jobs at the plant, where employment is expected to reach 800 by year end, Conti said.
"This announcement celebrates Continental's trust in the Sumter facility to continue delivering quality products to our customers," said Continental Tire CEO Jochen Etzel, who acknowledged the "sustained support" of South Carolina Gov. Nikki Haley, the state of South Carolina, the Ports Authority, Sumter County and the city of Sumter in Conti's growing presence in the Palmetto state.
The Sumter plant produces both Continental- and General-brand tires for the original equipment and replacement markets, Conti said.
Continental named Kajima Building & Design Group Inc. of Atlanta as general contractor of the projected nine-month construction project.
The expansion will add approximately 720,000 square feet to the Sumter site, including the new production hall and expanded warehouses for raw materials and finished goods.
The existing plant covers 1 million square feet, Conti said. The finished goods warehouse will be expanded to nearly one and a half times its original size.
Continental continues to partner with readySC and local technical colleges to assist with staffing and training interested candidates and to develop tailored apprenticeship programs for mechatronics and production positions in the facility.
This latest investment is in addition to more than $1.5 billion Conti has committed in the past five years for manufacturing, technology, facilities and product development in the US.