ContiTech to build new belting plant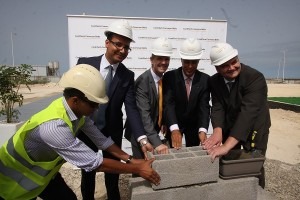 Jorf Lasfar, Morocco – ContiTech AG, a subsidiary of the Continental Corp., has started the construction of a new conveyor belt production facility in Morocco.
According to a company press release, the plant, part of ContiTech Conveyor Belt Group business unit, will manufacture textile and steel-cord-reinforced conveyor belts in the plant in Jorf Lasfar, in the west of the country.
With production set to begin in mid-2016, the 6,000-square-meter facility is expected to create around 120 jobs.
"Around 180 kilometers of fabric and steel cable belts are set to be produced in our Morocco plant each year," ContiTech spokeswoman Antje Lewe told ERJ.
A large proportion of the products, she added, will certainly be required in Morocco to extract mineral resources.
"In the long term we want to use our facilities in Morocco to serve customers in other parts of Africa – and in other parts of the world. This location is clearly positioned for further growth and will strengthen our global presence," Lewe said.
The new plant is part of a cooperation agreement between ContiTech and state-owned phosphate producer OCP SA.
"Morocco has the largest phosphate reserves in the world. The framework agreement and the new plant will strengthen our commitment in this important market," said Hannes Friederichsen, head of the ContiTech Conveyor Belt Group business unit.
In June 2014, ContiTech and OCP concluded a strategic supply and cooperation agreement, based on which ContiTech provides conveyor belts for OCP.
"We have already been working successfully with ContiTech for 20 years," said Mustapha El Ouafi, vice chairman of OCP SA.
"Our large production capacities" he added, "are supported by mining and production facilities of high calibre, equipped with large conveyor systems that enable them to provide a continuous transport service."
According to ContiTech, over 700km of conveyor belts are running in the OCP 'value chain' – among them conveyor belts from ContiTech.