Conti rolls out run-flats from Slovak plant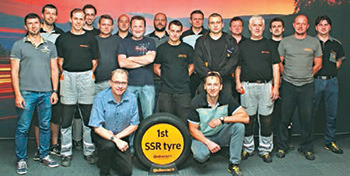 Puchov, Slovakia – Matador tire company, part of Continental AG, has rolled out a test series of run-flats and is now awaiting final approvals from a Fiat group customer, the Slovak company has announced.
Describing the tires as SSR - self-supporting run-flats – Puchov, Slovakia-based Matador explained that the tires could support an 80 km/h speed for 80km if punctured, thanks to its reinforced sidewall.
"Until this year, the only Continental plants in Europe that made these tires were Aachen and Korbach in Germany.
"At the end of 2013 a decision was taken to add production at our plant in response increased demand for the tires as part of the initial equipment for automakers," said the announcement.
In February, the company produced the first test series of type 225/50R17 94H ContiProContact SSR and then type 225/45 R18 95H XL ProContact GX SSR.
Both tires, said the company, are for a customer in the Fiat group.
"We are now waiting for final approval of both types and we will then start supplying automakers with our first mass-produced SSR tires," it added.