Many killed, injured in China chemical warehouse blasts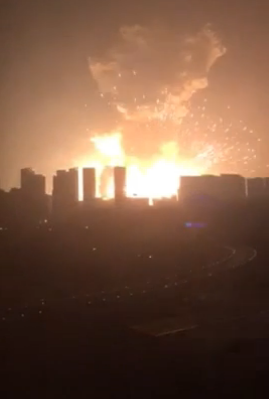 Tianjin, China – At least 50 people have been reported dead and over 700 injured in two explosions in stacked hazardous chemicals in Tianjin's Binhai district on 12 August.
A fire led to a massive explosion at 11:30pm local time and a second blast 30 seconds later. Cause of the accident is yet unknown.
Shockwaves shattered windows in nearby buildings with reports of many fatalities, and hundreds of injured people flooding into local hospitals.
A seismic agency under China Earthquake Administration states the first blast is of 3 tonnes TNT energy equivalent, the second 21 tonnes. Other smaller blasts were also reported.
The facility is run by Tianjin-based Ruihai Logistics, said a notice by Tianjin's fire department dated 13 Aug. Ruihai has warehouses at the site for the storage of hazardous materials including TDI and sodium cyanide, according to an inspection document by local government.