Titan announces expansion plans in Brazil, Turkey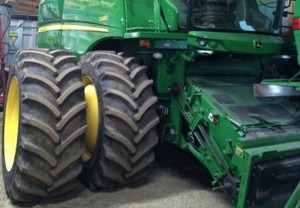 Quincy, Illinois – Titan International Inc. is exploring plans to expand its wheel plant in Turkey and establish a new wheel presence in Brazil to accompany its existing tire business, according to CEO and chairman Maurice Taylor.
In a second quarter results statement, Taylor also said that the company had a number of positive initiatives coming on stream in the next six months.
"Titan will be producing top of the line ATV Goodyear tires, new underground mining tires/wheels and new super single tires in conjunction with 3-piece wheels for ease of dismounting," he said.
Titan reported a 28.2-percent drop in sales down to $376.1 million, in the second quarter 2015.
However, gross profit for the same period was $51.1 million, or 13.6 percent of net sales, compared to $20.8 million, or 4.0 percent of net sales for the second quarter of 2014.
"Titan's agriculture, mining, construction and consumer businesses are all down. Overall sales are off over 25 percent year over year, yet we have been able to improve our operating margin rate performance," said Taylor.
The past two quarters, said Taylor, prove that what the management team has done in 2014 and thus far in 2015 is paying off.
Low Sidewall (LSW) technology features a larger rim diameter and smaller sidewall than a standard tire, while maintaining the same outside diameter, inflation pressures and weight load capacity.
According to Titan, the larger rim and smaller sidewall of LSW provides greater stability for equipment.
"We are in discussions with equipment dealers to offer a programme by which traditional tires/wheels are exchanged for new LSW technology," he added.
According to Taylor, the programme is likely to drive customer loyalty and ultimately improve their bottom line.