Trelleborg's new seal to reduce risk of concrete ingress for integrated pipes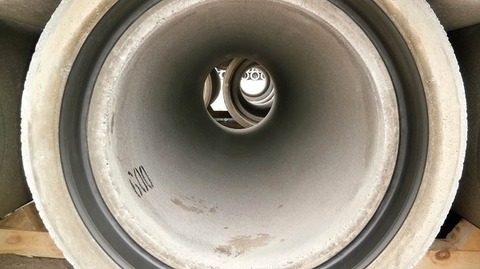 Trelleborg, Sweden - Trelleborg's pipe seals operation has developed a new integrated concrete pipe seal design – the Forsheda 165 – which it says reduces the risk of concrete ingress during pipe manufacturing and improves sealing performance.
Using a co-extrusion method, Trelleborg's new seal features a slurry lip made of soft rubber – 50 international rubber hardness degrees (IRHD) – for improved flexibility.
Trelleborg said the profile of the seal is enhanced in order to fit securely against the pallet, avoiding the risk of leaking concrete and unnecessary pallet cleaning.
"If the seal is not designed to the right rubber stiffness, it can compress under pressure when being fixed onto the pallet. Similarly, if it is not stable, the vibration that is applied to the concrete as the mould is filled can cause the seal to be displaced, or even lift off the pallet," according to Julian West, product manager at Trelleborg's pipe seals operation.
Acknowledging the fact that the performance of seals could be affected during packaging and delivery, West said: "To prevent the seal warping or mis-shaping, we only pack them once they have reached a suitable temperature.
"We also limit the number of seals per box to ensure they arrive ready for pipe production in the same condition as they left the factory."
The seal is made from EPDM rubber as opposed to SBR rubber.