Michelin hiking budget-tire output to counter Chinese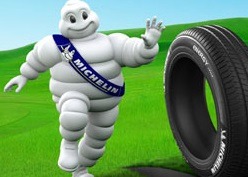 Chengdu, China—Michelin plans to almost double the proportion of budget tires in its global sales mix to counter the rise in Chinese exports sold in Europe and the US, according to CEO Jean-Dominique Senard.
"Today (our mix) is 15 percent to 20 percent," Senard said during the company's recent Challenge Bibendum in Chengdu. "It should move up to 25 percent to 30 percent in the next five to 10 years."
In Europe, Michelin produces entry-level tires under the brands Tigar, Kormoran and Riken at its Tigar Tyres factory in Pirot, Serbia, for sale across Europe, Russia and the Middle East.
Chinese tires now account for nearly half of all tires imported into Europe, according to data from analysts LMC Auto. Growth in North America is "quite tremendous," Senard said. "These exports tend to have an impact on the price structure on the tire business."
A key reason for the growth is that Chinese tires are getting better, said Rob Simmons, head of rubber and tire research at analysts LMC Auto. Chinese brands have been helped by the new European labelling system, which lists scores for wet braking performance, rolling resistance and noise.
"Chinese tires are scoring higher, particularly for rolling resistance, which helps fuel economy," he told Automotive News Europe, a sister publication of European Rubber Journal. "Historically, tires in Europe have been good on wet grip, but less good on rolling resistance."
Michelin recently started manufacturing budget tires in China in a joint venture with local maker Double Coin Holdings under the Warrior brand. However, the company has no plans to export China-made tires outside Asia.
"Our goal is not to make China an export hub," Florent Menegaux, Michelin's director of car and van tires, said.
Double Coin, however, does plan to export the Warrior brand. Double Coin's China Manufacturers Association subsidiary has disclosed plans for the brand in North America.
Michelin also isn't interested in being a leader in very low-cost tires, Senard said, adding, "All our tires have the basic characteristic of being safe."
Simmons said European tire makers also face competition from South Korean brands manufactured in eastern Europe. In March, the European Commission announced it would give $80 million of regional investment aid to help Korean tire maker Hankook Tire Co. Ltd. build a second tire plant next to its factory in Rácalmás, Hungary.
Innovation will help premium tire makers stay ahead, Simmons predicted.
Late next year, Michelin will launch its so-called Self-Seal tire that repairs punctures. The new technology will be available on all Michelin-branded passenger car and light van tires for a premium, the company said.